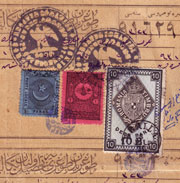 Photo 2
Full Document
In the history of philately many known examples of counterfeit stamps or philatelic documents, forged at the expense of postal administrations, forged at the expense of stamp collectors and stamps inventions were not issued by any postal or fiscal administration. It seems that due to increased interest in collecting revenue stamps, they came to the attention of counterfeiters today. In this article we present some cases of forgery at the expense of revenues collectors and exhibitors. Not long ago I was offered a telephone friend of the country, some Romanian stamps and documents from the Ottoman period "classical" tax stamps.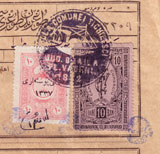 Photo 1
Full Document
The price for the whole lot, chosen carefully, it was neither too high nor too low, only to stimulate adrenaline as an inveterate collector. Items, if it were genuine, would be weighed heavily in revenue exhibits, about as much as some would have weighed the envelopes Paris 1872 issue circulated which added a large Hermes head stamp or Franz Josef. Imagine my joy and anxiety until I got pictures of these documents, the telephone conversation is only to prepare the business. Less blurry digital images did not provide sufficient detail, but the entire ensemble presented by phone stimulated the collector adrenaline. On documents translated into Arabic, Romanian beautiful Chamber of Commerce and Industry tax stamps were glued, together with Ottoman postal and fiscal stamps. More and impressive cancels, with ideograms and combinations, unexplained hand cancellation both on stamps and on paper, seem as accurate and original. I started looking through specialty catalogs, congratulating myself that I purchased in advance. The first questions have emerged with identifying Ottoman issues. Date of their appearance and purpose for which it was issued, had no connection with or to Romanian revenue stamps. Distance issue than for many years from the stamps on the same document, he asked other questions. Still wishing fervently as I have been wrong and yet they are genuine, I passed to the stage of interpretation and translation of documents, like other Internet search or any other helpful information. Working very hard I sent dozens of emails with pictures attached to everyone knew philatelists in Turkey, I called the Turkish Embassy to translators, I gave dozens of phones. Finally, some interpretations from Arabic confirmed my fears. I asked the seller the original items, without the completion of the transaction. Thoroughly investigated, including ultraviolet lamp, the documents - in fact genuine - showed various stages of forgery by adding postage and fiscal stamps cancellation of forged seals and writing. A week of illusions and disappointments. Of course, I've returned them to the dealler and I announced my intention to publish this article with friendly advice not to attempt to offer them for sale. By publishing this article for collectors information about this type of falsification, I will not reveal all the facts allowed to establish with certainty the contemporary forgery (possibly very many years ago), do not to facilitate future attempts of falsification. Knowledge of postal and fiscal history are basic elements in detecting of counterfeits.
Description of the documents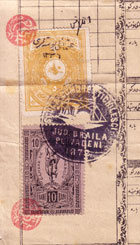 Photo 3
Full Document
Photo-1.
Certified for taxes and duties
(Dogrudan dogruya tahsil olunan tekalife mahsus makbuz ve ilműhaberdir) of 1324 (1908).
Position 3
, 10 par ottoman revenue stamp overprinted Ottoman Post 1921.
Position 4
, 10 bani romanian revenue stamp Chamber of Commerce and Industry 1888 issue.
Position 5 and 6
of 20 par and 1 piastre ottoman stamps 1876 issue.
Position 7
, genuine negative seal TICHILESTI VILLAGE SCHOOLS - COUNTY. BRAILA - PL. Vladeni - 1872 (there was a leper house which apparently still works today), but without regard to the nature stamps or documents, fraudulently applied long after the period of validity (known situations which rural - cancels have used a few years over the date shown on them, but not after 49 years).
Position 2
, rubber Ottoman cancel Abdullah, forged.
Position 1
, genuine Ottoman seal.

Photo 4
Full Document
Photo-2.
Certified for taxes and duties
(Dogrudan dogruya tahsil olunan tekalife mahsus makbuz ve ilműhaberdir) of 1323 (1907).
Position 3
Ottoman local mail stamp Paras 5, 1865 issue.
Position 4
Ottoman stamp duty payment 2 piastres 1901 issue.
Item 5
, 10 bani general Romanian revenue 1875 issue post canceled BRAILA 1876, completed (drawn) manually over Ottoman stamp (postmark not have what to look for this combination).
Position 6
Hand inscribing forged on document intended for cheating the buyer.
Position 7
negative seal illegible, probably made of rubber.
Item 2
Ottoman rubber stamp, forged and applied with generosity everywhere.
Item 1
Ottoman original seal.
Photo-3
Tax Certificate
(Selanique, "Musakkafat Vergis Tezkeresidir") dated 1298 (1882).
Position 3
,Ottoman revenue stamp overprinted Ottoman Post Office 1920.
Position 4
, 10 bani Romanian revenue stamp Chamber of Commerce and Industry 1888 issue.
Position 5
, genuine negative seal TICHILESTI VILLAGE SCHOOLS - COUNTY. BRAILA - PL. Vladeni - 1872, but like the previous original document fraudulently applied.
Position 1
, forged rubber Ottoman cancel applied generously.
Position 2
, forged handwriting to provide a degree of originality.
Photo-4
Part of document
.
Position 5
, Ottoman 2 piastres postage due 1901 issue.
Position 4
, Romanian 2 bani postage due 1892 issue.
Poziţia 6
, 1 piaster Ottoman revenue for travel permits and transit licence 1888 issue.
Poziţia 3
, rubber Ottoman cancel forged.
Poziţia 2
, Ottoman stamp forged a position 1 that mimics the original stamp.
Poziţia 1
genuine Ottoman seal.
Of course, the group still contains some original Ottoman documents and appropriate tax charged to complete the original atmosphere of the entire group even the book used for manual reproduction of cancels. Their story that comes from an old collection, retired, taken from Germany decades ago along with many other documents and pre-stamps letters, is designed to complement the atmosphere of originality. Forgery would have been much more difficult to detect if a forger would have had knowledge inventive stamp tax and much better and why not, if they knew the Arabic language used in those times. Opinion amateurs contemporary counterfeiters ingenuity knows no boundaries, so if you are unsure of the pieces are offered very carefully study them, compare them with other materials, literature or consult experts for advice. Do not pay until you are sure that what you get is an original. Better to quit than to get you disqualified in an exhibition for your carelessness. In a future article I'll show you some "genuine fakes" created 92 years ago at the expense of all collectors, fakes with stamps of the German occupation in Romania, fakes are traded through auctions on the Internet or are presented like original circulated in a new several studies (actually very dangerous).
Bibliography:

Mihai Cojocar, "Romanian revenues catalogue-2006";
M. Guboglu "Paleography and Osman Turkish diplomacy";
William T. McDonald "Revenues of Ottoman Empire and Republic of Turkey" Second Edition;
Scott Catalogue vol. 6 2009;

Francisc Ambruş, 12/2010