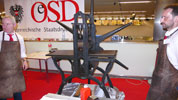 During the period between the 18th and the 21st of September 2008, in Vienna the WIPA 2008 Philatelic Exposition took place. In a more than generous space, on three floors of the Austria Center Exposition Complex were spread the stands of dealers and postal administrators, inserted among expositional panels set according to participation classes. The exhibition had an exceptional success, daily hundreds, even thousands of people of all ages visiting the exposition and commercial stands.
The underground parking, spread over two levels was almost always full. During the exposition other events were happening, concerts, book launchings and children programs. For the fiscal philately there were only 5 participants, a regrettable fact taking into consideration that there were many subscriptions.My exhibit about fiscal stamps destined to the stock exchange and chambers of commerce, with which I subscribed for viewing was among the rejected ones. It is regrettable that the participation of fiscal stamp collectors is not fully understood,with new exhibits in a class which normally should include many subclasses.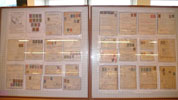 Fiscal philately has a lot to present and there is not always time to wait until you have notoriety and results for more exhibits of the same class but with different topics. In my case, to be able to present all 8 types of exhibits prepared I should probably wait 16 to 20 years for a result record. I doubt I have that time and I do not believe it is to anybody's gain if I cannot present them. This is a problem with which I observe that a lot of fiscal stamp collectors are confronted. It would be much easier to present the three or four exhibits which already posses a record with few improvements, but the themes of the other exhibits is as interesting as it is varied. Regardless that IREX regulations accepts exhibits for first viewing with the commissioner's or federation's guarantee because unfortunately the selection is done by the triage commission which selects according to obsolete criteria and does not ry to promote change.
These are the participating exhibits and their results record:
"Das Zeitungsstempelwesen Osterreichs 1789-1899" by Carsten Mintert, Germany, 95 points, Large Gold and Special prize.
"Tasmanian Revenues" by Francis Kiddle, Great Britain, 88 points, Large Vermeil
"Philatelie fiscal d'Alsace Lorraine 1840-1944" by Claude Munch, France, 80 points, Vermeil
"Fiscal Stamps of Serbia during German Occupation 1941-44" byVasil Micevski, Serbia, 80 points, Vermeil
"Princely States of India - selected revenue issues through 1950" by Jiri Cerny, Czech Republic, 77 points, Large Silver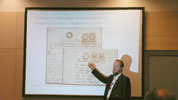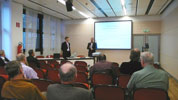 Another extremely important manifestation was the reunion of ArGe Fiskalphilatelie group, over 30 of them, on the 19th, between 15:00 and 17:00, where mister Ralph Ebner and Carsten Mintert presented three studies extremely elaborated, about Austrian and Austro-Hungarian revenue stamps. The large participation and the interest for the presentations prove that fiscal stamp collecting presents interest to philatelists. Personally I was extremely impressed by the dimension of the studies, by the way in which it is extremely easy to present in PowerPoint on a 2x3.5 m screen. There were free discussions on the subject of the presented themes, with arguments and counterarguments. So it is possible to accomplish something with relatively cheap logistics. At the end, the exposition and the contacts established were useful and the trip deserved the effort.
Francisc Ambrus, September 25, 2008