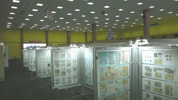 For this report can be seen as exhibits of stamps have passed surpassed expectations and a great majority are going to G and LG. I think we must be proud that this class is beginning to show exceptional quality and its participants, and that no one exhibit has not dropped below the score is a strength of these competitive classes.
I am glad that our participation was well received by the philatelists present as well as by the public, enchanted to view new things, new domains and new modalities of presenting. In my opinion fiscal philately offers new possibilities for the knowledge of the stamp and its usage. I earnestly await the new exhibits of fiscal philately at the great world expositions, with new and varied themes. It is my belief that studies of fiscal history, much more special and more detailed than traditional ones can be observed. The typical approach of traditional philately is difficult, hard to understand for the public and is addressed to a small circle of connoisseurs. Even if we present ourselves in a competition and we pay the dues, I believe that our main goal is to present to the public the beautiful world of fiscal stamps and attract new collectors. If we continue to present exhibits that are difficult to understand and extremely hard to comprehend, we only close the gate to future enthusiasts and become an exclusivist club. I hope that this does not become our aim for the future.
Our exhibits must encourage others to explore this world, otherwise we risk remaining alone and facing diminishing numbers. I don't know how many of you examined all the competitive classes. I am a philatelist, and a lover of postal history and traditional philately, but I sincerely tell you that these classes have grown old and tired, reaching a level where it is difficult to add anything new, the subjects treated being the same ones year after year with little, if any change.
This does not mean that they are not of great value but it means that space is taken up and it is difficult for others in the revenue class to enter. I wish to remind all that studies can be made with less valuable pieces, and that it is time to try new subjects and approaches. It is clear to everybody that if we present a world class exhibit, success is guaranteed, and the exhibit will be highly awarded.But can everybody afford this? Can every participant have the luckor the financial possibilities to present a complete or almost complete study? The history of the country, the demographic conditions, its governments or other factors allow complex studies. These are some of the arguments which enclose the circle of exhibits to a few privileged ones.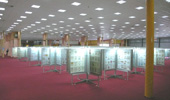 I believe that our world cannot end here.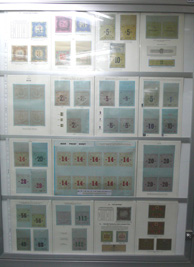 Each country has hundreds and hundreds of used fiscal stamps for a diverse number of documents (from the fixed tax on palm leaves to sanitary stamps applied on pharmacy bottles), which wait to be collected, researched and presented in future exhibitions. Have the courage to try these themes, waiting to be discovered, researched and exhibited. Collect them and make up a beautiful story. The public and the jury shall appreciate it.
I'm absolutely convinced that revenues can be exhibited and a gold medal can be obtained even with help stamps, employment, communal, tobacco, or bear besides a traditional exhibit, with rare stamps. The public will be more enthusiastic about these than one which it does not understand.It is nice that you can present a study with the position on a sheet, varieties, watermark, essay or strike before issue, but to whom is the study addressed? Of course only to initiated people, specialists and connoisseurs. Is it enough? The exhibits are offered for the public; otherwise we can make closed doors competitions,because we know what is exposed or what we fight for among us.
Exhibits can be made with limited money; we don't have to be billionaires. We only have to find the way, study it, complete the literature through articles and studies, so as to be understood, and then to take part in the competitions.Also, I am convinced that a better collaboration between us, collectors of fiscal stamps is the main way of knowing and collaborating in the exchange of information and materials. The internet is our asset, and we must take advantage of this opportunity, which others did not have. I am convinced that the result will not disappoint you. I wish you lots of luck!
Francisc Ambrus, July 08, 2008